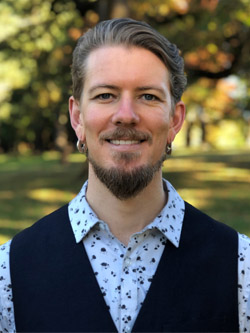 Dr. David Campbell, DSOM, LAc, EAMP
Dr. Campbell is passionate about natural medicine and holistic healing. He has a gentle touch and a caring sensibility. Dr. Campbell earned a Doctorate of Science in Oriental Medicine (DSOM) at the National University of Natural Medicine (NUNM), and he is licensed to practice Acupuncture and East Asian Medicine in Oregon and Washington.
David is a poet and philosopher who loves to pursue truth, beauty, and meaning through contemplation, creativity, and kindness. David is an outdoorsman, an ecophile, an Eagle Scout, and an amateur mycologist. He loves spending time interacting with natural ecosystems. Dr. Campbell is great at math and science as well as translating ancient Chinese texts, and he is passionate about bridging these different worldviews into a greater integrated whole that he calls Integral Naturalism.
Dr. Campbell enjoys working with each individual patient, and he strives to offer the best support for healing, personal growth, and self-empowerment that he possibly can. Dr. Campbell enjoys using manual therapies to expand the impact of treatments, as he is trained in Shiatsu, Sotai, CranioSacral, Cupping, Gua Sha, and Yin Tuina. He is happy to help resolve issues of body, mind, and spirit through 氣 Qì focused treatments, and he enjoys releasing musculoskeletal pain with orthopedic (dry) needling. Dr. Campbell is comfortable treating chronic disease with 蠱症 Gǔ Syndrome herbal methods that he learned from Heiner Fruehauf, PhD, LAc, and he finds that such patients often respond well to the subtler techniques of Japanese acupuncture and moxibustion that he learned from Bob Quinn, DAOM, LAc. David looks forward to meeting with you and helping you to live a healthier and more meaningful life.